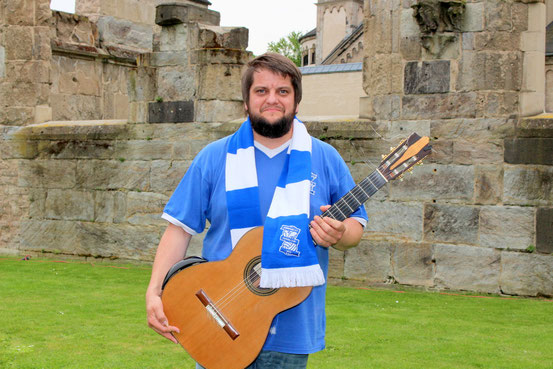 Although he grew up in Great Barr, the nearby club never came into consideration: he has been a Bluenose from birth. Russell has been living in Germany since 2004 and works as a concert guitarist and guitar tutor.
When and why did you come to Germany?
RP: In 2002 I took part in the International Guitar Festival in Koblenz and fell in love with this wonderful city on the spot. Later I studied at the Koblenz International Guitar Academy under Professor Hubert Käppel. I've been living in Koblenz since 2004. Back then leaving Birmingham presented a great risk for me, but it was worth it. Actually I hadn't planned to stay in Germany. But Koblenz is such a great city, and the quality of life on the Rhine and Moselle is good. I like living in Germany.
Where did you grow up?
RP: I'm a Brummie born and bred; I grew up in Great Barr in the north of the city, which you could say is a bit of a Villa area.
And yet you became a Bluenose?
RP: Yes, even though some of my uncles, aunts and cousins are Villa fans and my grandfather was born in Aston and was also a Villa fan. But luckily my dad George is a Blues fan, although he was born in Durham and is therefore a Geordie.
Since when have you been a Blues fan?
RP: Since I was born, thanks to dad (laughs).
Why are you a Blues fan?
RP: Being a Blues fan has something honest about it. The fans of Birmingham City have that certain something in them. They give their lifeblood until the bitter end!
And nothing has changed since you moved to Germany?
RP: You can take the boy out of Birmingham, but you can't take the Birmingham out of the boy (laughs).
Can you remember your first ever Blues match?
RP: My first match must have been in 1982 or 1983. Home match against Liverpool. After that my father, my younger brother Nick and I used to sit in the Railway End. When the violence in English stadiums and particularly in Birmingham increased, we sadly stopped going to St. Andrew's for some time. With two small children my dad thought it was just too dangerous.
At the beginning of the 90s, while I was at a Catholic school in Wednesbury, I sometimes went with two friends to watch the "Baggies" at the Hawthorns. But eventually I finally returned to St. Andrew's.
My first match was a 1:0 home win against Oxford in the season 1992/93 in Division One. The Kumar brothers had just left, and the reign of David Sullivan, the Gold brothers, Karren Brady and of course Barry Fry was about to begin. From the season of 1995/96 on I had a season ticket for St. Andrew's until I moved to Germany. Tilton Road, Block 10. I also went to many away matches during our Championship time. Bury, Crewe, Huddersfield, the full monty (laughs.
Your best Blues matches?
RP: Oh, there are many. Of course the victories against Villa in the season 2002/2003 are unforgettable, which we celebrated in the streets and pubs until late in the night. And also the final of the Auto Windscreen Shield in April 1995 was great. Remembering the moment I left Wembley tube station and saw a mass of people in blue and white around me still sends shivers down my spine. Or the play off matches in 2002. First the semi-final against Millwall, then this dramatic final against Norwich which we won in the penalty shootout and finally managed to be promoted after failing three times before.
I also remember the away match at Stoke in January 1998. A 7:0 win with a Paul Furlong hat-trick. Or the semi-final in the League Cup 2001, when we made good the 0:1 away defeat in Ipswich in the return match with a 4:1 win. Geoff Horsfield scored twice, I still remember this very well, because that day I had a concert, so I arrived a few minutes late at the match, unusually, you might say too elegantly dressed for the occasion (laughs).

The European Cup game in 2011 in Bruges was a real experience. And of course "The Great Escape" in May 2014. I played a concert at a church in Koblenz during this match. After that it was party time in the Irish Pub in Koblenz.
Your worst moments with the Blues?
RP: All the others (laughs). Especially the 1:3 defeat against Villa in April 2006 or the 0:4 home defeat against Barnsley in the play-offs in 2000 really hurt. And in the 2001/2002 season I actually wanted to give up my season ticket due to the bad performances by the Blues under Steve Bruce. We did reach the play-offs in the course of the season but it wasn't really nice to watch. And there were also some really bad away trips. I remember a bitter day at Preston. The pubs were bloody awful, the police were bloody awful and it rained cats and dogs all day. And we lost the match 0:1 at the Deepdale through a Darren Pearce own goal.
Who is your favourite player?
RP: Christophe Dugarry. He was just brilliant.
And your favourite coaches?
RP: Barry Fry. He brought back optimism to Birmingham and we all had a lot of fun with him. Trevor Francis. He wasn't always a good coach but he did a respectable job and bought with him a little bit of seriousness after Barry Fry. And Steve Bruce because he brought Dugarry and some other good players to Birmingham City.
What do you think of Gary Rowett?
RP: He's been doing a great job up to now. He has managed to bring some optimism back to the club.
Which players do you like to look back on?
RP: In goal: Ian Bennett, Maik Taylor, Joe Hart and Ben Foster. In defence: Martin Grainger, Michael "Magic" Johnson, Liam Daish, Steve Bruce, Gary Ablett, Alberto Tarantini, Darren Purse, Matthew Upson, Stephen Carr, Scott Dann, Roger Johnson. In midfield: Bryan Hughes, Stan Lazaridis, Louie Donowa, Jose Dominguez, Paul Tait, Robby Savage, Peter Ndlovu, Damien Johnson, Paul Devlin, Martyn O'Connor, Aliou Cisse, Olivier Tebily, David Dunn. Forwards: Trevor Francis, Christophe Dugarry, Mikael Forssell, Kevin Francis, Ricky Otto, Steve Claridge, Geoff Horsfield, Frank Worthington, Kenny Burns, Bobby Latchford, Dele Adebola, Andrew "A.J." Johnson, Mark Burchill, Mario Zarate.
Your favourite stadium apart from St. Andrew's?
RP: The old Highbury stadium at Arsenal. I watched our first Premier League match there on 18th August 2002. Unfortunately we lost 0:2.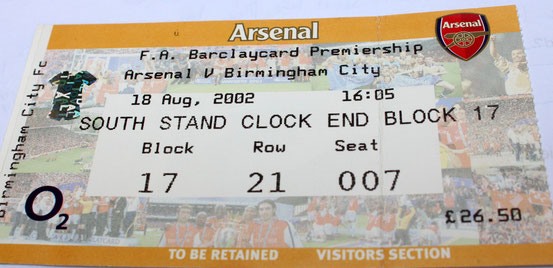 How do you follow the Blues in the German "exile"?
RP: That's not a problem today because of the Internet. And I always talk to my dad on the phone after every match.
How do you like the idea of founding a Blues German supporters club?
RP: That's great, a really wonderful idea, and on top of that founded by a "crazy German" and not by one of the many English people living in Germany.
How will the Blues end this season?
RP: The fans shouldn't be unrealistic and demand promotion. I hope we end up mid-table again. Maybe it will even be enough for the play-offs.
How do you see the current situation of the Blues?
RP: Of course we're having big problems coming from the dramatic events in Hongkong. I don't have a clue how things will go on there. But I definitely wish for Birmingham to become a healthy club again and find new owners with the clubs and fans best interests at heart.
If you could choose any former Blues player to play, who would it be?
RP: It would have to be Trevor Francis.
If you could discuss football over a pint with anybody, who would that be?
RP: My brother Nick, "Bird", Steve Hawes, Louis Clark, Nick Davis, Matthey Gidley, Emma Baker, Jim Smith, Rob Fellows and Mark Borger, to whom I send my kindest regards. This answer has as much to do with the beer drinking aspect, as with the football (laughs).
What are your favourite places in Birmingham?
RP: I like Digbeth, the old Birmingham with its many pubs.
What is life like for an Englishman in Germany?
RP: Unfortunately many English people still have a poor opinion of the Germans. I think this is still due to World War II. But I'm happy to repeat myself: I feel very happy here in Germany. If I may criticize something about the Germans it is their lack of spontaneity sometimes. And many still have to get used to my English humour…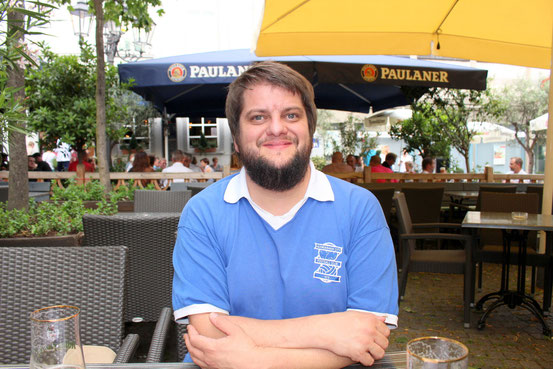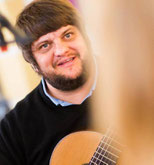 Russell Poyner's performances have been described by critics as "enchanting", full of "energy and vigour", a "musical journey through the diverse beauty of sound" (Rhein Zeitung), and by BBC Radio 2 as "really musical performances of character and commitment".
Russell studied at the Birmingham Conservatoire with Simon Dinnigan. During this time he won the Birmingham Conservatoire Guitar Prize, and was awarded a scholarship from the Banners Gate Trust.
He also studied with Maestro Oscar Ghiglia at the Accademia Musicale Chigiana, Siena, Italy, winning a scholarship from the Accademia Chigiana and Arts Council England, and later went on to study with Professor Hubert Käppel at the Koblenz International Guitar Academy, where he was awarded the postgraduate Soloist Diploma.
Russell has won prizes in national and international competitions. These include runner-up in the BBC Radio 2 Young Musician of the Year, and 2nd prize at the 10th Koblenz International Guitar Competition.
He has given performances across Europe, America, and Brazil, including concerts at the Queen Elizabeth Hall and Bolivar Hall, London; the Rhein Mosel Halle, Koblenz, Germany; the Secs Centre, Rio de Janeiro, Brazil; and Theatro Municipal Niteroi, Brazil. His full London debut celebrated the centenary of the Spanish composer Antonio José with a concert at the Imperial War Museum. This concert was heralded as a "triumph" by Robert Matthew-Walker in Musical Opinion. Russell has also performed at the Bolivar Hall Guitar Festival, London, Gevelsburg International Guitar festival, Germany, and Koblenz International Guitar Festival.
As a soloist with orchestra, Russell has performed with the BBC Concert Orchestra, and Staatsorchester Rheinische Philharmonie. His performances have also been broadcast on BBC Radio 2, television in Germany, England and in Brazil on TV Globo's 'Good Morning Brazil' programme, live to an audience of over a million people.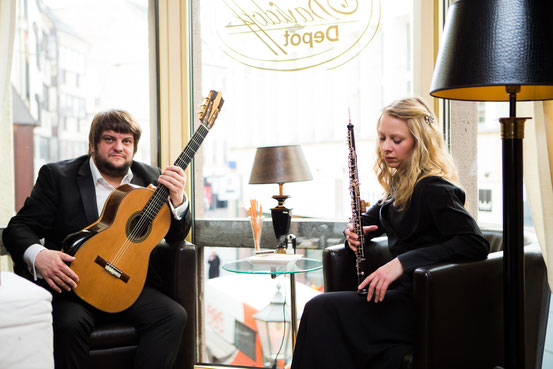 Since their first concert together in 2011, the oboist Monika Dawidek and the guitarist Russell Poyner have captivated audiences with their energy, vitality and interaction on stage, as they charmingly bring together this unusual combination of instruments.
Their performances have been described as "wonderfully sensitive … impressive … thrilling" (Rhein Zeitung), as "an excellent performance … their playing was just [so] exciting" (Gendai Guitar Magazine, Tokyo), and "The two were able to charm the audience, who fully appreciated all the nuances of their interpretations" (dotGuitar, Italy).
The duo's repertoire covers a wide range of genres, from Renaissance, Baroque and Romantic, through to Spanish and Modern music, with a focus on the music of South America.
The new album from the Dawidek-Poyner Duo "Oblivion – Latin American Music for Oboe & Guitar" will be released by First Hand Records on the 13 July 2015. It contains wonderful music by Astor Piazzolla, Heitor Villa-Lobos, Agustín Barrios Mangoré, Dilermando Reis, Celso Machado and Luiz Bonfá.